New product updates fo personalized ceramics and a 10% discount right now
Create the perfect Christmas gift
Showing your love and affection with ATMA's ceramics
Customized gifts are the best way to tell your loved ones how much you cherish having them in your life. You have great memories together and you want them to remember those. They can become a new cooking tradition with their own kids or a source of energy when they might feel a bit down. 
I define myself as a nostalgic person, but a happy one! I started writing my grandma's amazing recipes on mixing bowls and gift them to my brothers and cousins. Their immediate and unforgettable reactions led me to include customized ceramics in ATMA collection. 
Choose the perfect ceramic
ATMA's recipe mixing bowl is definitely the centerpiece of my customized  ceramics. However, I have developed a few more items from functional to decorative. I have sorted them by utility, but the most important is what memory you want to transmit: a family recipe, a song, a poem, a special date, etc. 
For each item listed below, I stipulate the recommended length of the text, as well as its functional or decorative nature.
In my studio, I use stoneware clay fired at 1250°C / 2280°F. It has an excellent resistance to shocks  and it goes perfectly in the microwave and dishwasher.
For the writing, I use the same clay body as the container diluted with water. I apply it when it is still fresh so that both merge together when drying and being fired together.  I only use capital letters.
Depending on the time of the year, I might need up until 3 weeks to make the vessel and customize it. Ceramic is a slow art with long drying times and 2 firings, each one lasting about 36 hours to go up to the expected temperature and cool down. We, ceramicists, are all very patients people!
My studio is based in Spain, I send ceramics every week to Europe, US and Canada. The shipping takes about a week for the US and Canada and 3 to 5 days for Europe. 
If you have any question or any doubt, please contact me to the address below. I will do my best to answer with the most precise information.
hello@mariemartinceramics.com
The customized mixing bowl is ATMA's bestseller. Sharing family traditions has never been more important! The recipe bowls come with 2 different sizes. For both models I normally write the recipe name and the ingredients in front, and the process in the back. 
Of course, I can write different texts like quotes, family quotes, family names, etc.
Mixing Bowl:  25 x 20 cm / 10 x 7.8″ approx – 12 ingredients max – 60 words for the process. recommended
Dip Bowl: 18 x 15 cm / 7 x 6″ approx – 6 ingredients max – 40 words recommended for the process text. 
Both are functional ceramics.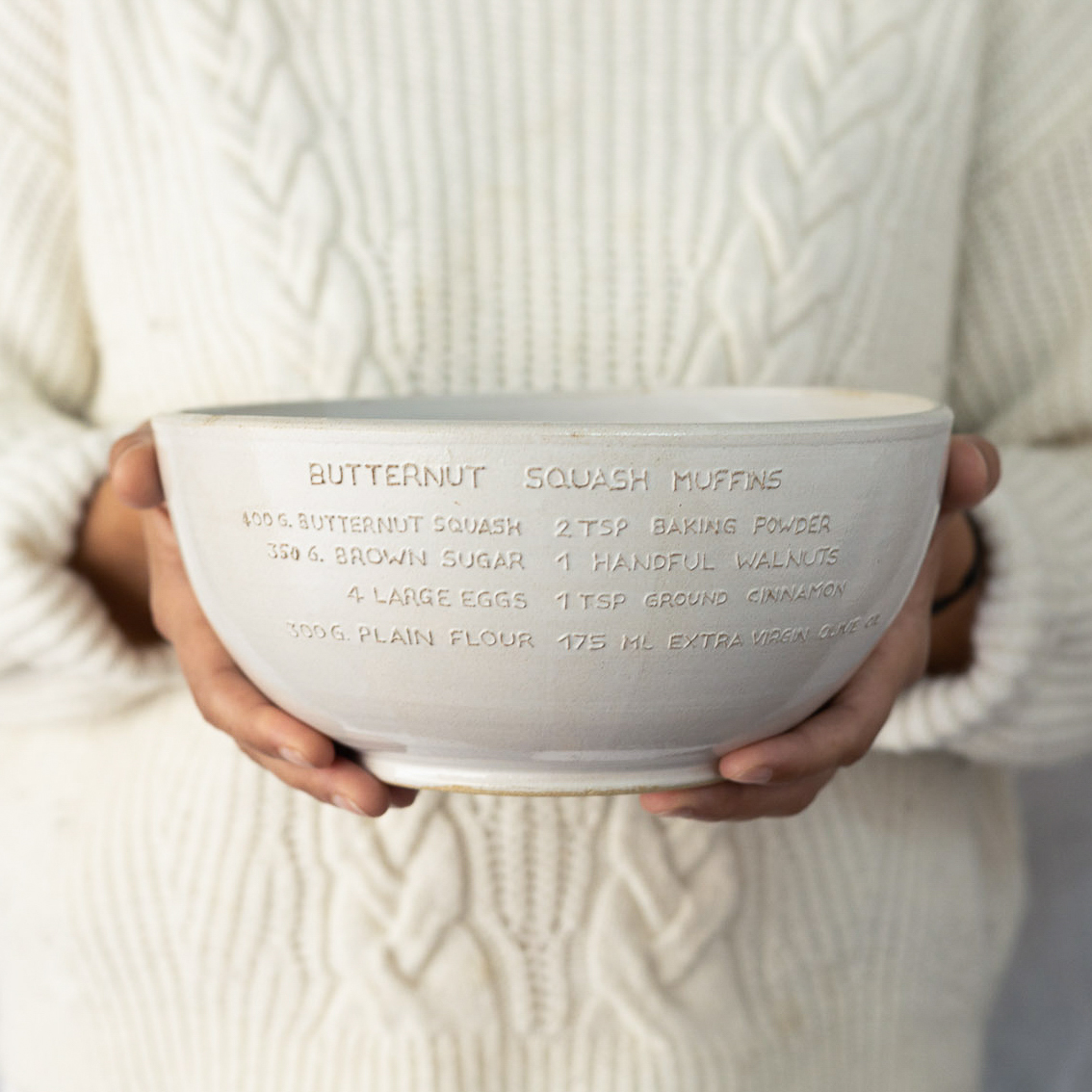 Personalized bowls are timeless and always appreciated. I can write Family names, nicknames, motivational quotes for the heavy sleeper, etc. 
12 x 12 cm – 4.5 x 4.5 " approx
Functional ceramic – Limited text
The centerpiece bowl can be used as home decor as well as a serving plate. I like to write the names of the family members, or just a few words from a song or a poem. 
25 x 8 cm – 10 x 3.5 " approx.
White clay : Functional and Decorative
Black clay : Only decorative. 
Limited text : Names, Poem with short lines written vertically…
This item is entirely decorative . I like to write song's lyrics , poems,  book's quotes, or any other words that really matter to the person who will receive it.  Depending on the text length, I sketch a design and email it for approval before starting to create the ceramic.   
25 x 20 cm – 10 x 8″ approx – White clay and Black clay
Decorative – Medium text ( 60 words maximum recommended)